Chic and relaxed spirit where you feel good
HOTEL**** WEDDINGS – EVENTS – LOUNGE BAR – RESTAURANT
Take a break, enjoy, relax. Warm rooms designed for your well-being. Because your pleasure and serenity are our priorities.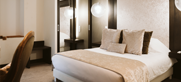 COMFORT: 3 bedrooms bathed in sunlight, with touches of leather and copper for one, cement tiles for the other and the warmth of an open bathroom for the last.
Schedule
The reception is open from 7:30 am to 8:00 pm Monday to Sunday.
Access to the hotel outside these hours must be done in agreement with the reception. Arrivals for the hotel are from 5:00 p.m., the release of the rooms must be done no later than 11:00 a.m.
Breakfast is served from 7:30 a.m. to 10:00 a.m. Monday to Sunday
The Domaine's teams are committed to taking care of you with energy and enthusiasm. Our goal is that you simply feel good.
Relax around our swimming pool. Take your breakfast on our wooden terrace. Stroll between our century-old trees.
FREE PARKING, WIFI, BAGAGERIE, ACCES & PMR, MEETING ROOM, TRAY MEALS IN ROOM.
Our establishment makes every effort to reduce its environmental impact.
Rooms from €120
Tourist tax 1.30 € / person and per night not included
Breakfast 13€
Tray meals 24€
Booking : 05 63 58 90 14 or 06 77 97 39 89
Email : hotel@domaine-denfargou.com
Sit in our rounded blue velvet benches, and let yourself be surprised by our menu.
Chic and warm inside, it also offers a large wooden terrace under a huge chestnut tree.
Open :
Monday to Friday : noon
Thursday to Saturday : evening
Privatisation on Request
06 77 97 39 89
05 63 58 90 14
Le Restaurant d'En Fargou
NOON
Every day, the restaurant offers a 100% homemade menu with fresh and seasonal products.
EVENING
Over the seasons let yourself be surprised by our double choice menu, we reveal the composition of the plate, everything else is a surprise..
BRUNCH
On the last Sunday of each month, book our famous Brunch.
The Restaurant offers cuisine based on fresh products, 100% homemade.
Opening :
Monday to Friday: noon
Thursday to Saturday: evening
Group meals for lunch and dinner by reservation.
05 63 58 90 14
ou 06 77 97 39 89
Spaces – Creativity – Organization
We create the event in the image of your values, your event!
Contact-us : 06 76 74 63 56
We invite you to share a moment out of time. Our work is a passion.
Let's create a unique moment in your image, your story.
Contact-us :
06 77 95 42 63
TOUS
HOTEL & CHAMBRES
BAR RESTAURANT
EVENTS
WEDDINGS

Bar : bar@domaine-denfargou.com
06 77 97 39 89
Julie Ronco : julie@domaine-denfargou.com
06 76 74 63 56
 Hôtel Domaine d'En Fargou
Côte d'En Fargou 81 370 St Sulpice La Pointe
Domaine : Côte d'En Fargou 81 370 St Sulpice
 05 63 58 90 14
et suivez-nous sur les réseaux sociaux